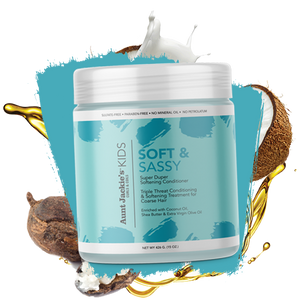 GREAT FOR 
It works quickly to help soften and loosen tight course textures. 
What will it do for my hair?
Aunt Jackie's "Triple Threat" conditioning treatment yes this botanical extracts to help soften coarse, hard to manage tresses, improves manageability for easier combing and strengthens hair for healthier growth. Use as a regular rinse out conditioner, co wash or deep conditioning treatment.  Helps soften hard to manage hair and gently loosens tight course textures. Replenishes moisture while natural conditioners contribute to strengthen and improve hair health.