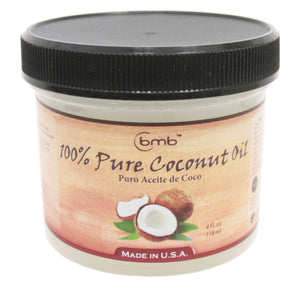 BMB 100% Pure Coconut Oil for Hair and Skin Puro Aceite De Coco, 4 oz
For Hair, 100% Pure Coconut Oil helps hair retain more moisture and proteins, meaning stronger, silkier and shinier hair.
For Skin, 100% Pure Coconut Oil can help restore moisture to the skin and reduce the appearance of fine lines and wrinkles when used regularly.

Directions: Pour a small amount to palm, rub hands together, then apply evenly through hair or skin. For skin, apply a liberal amount where needed most. For hair, rub a few drops between hands and apply evenly through hair to add shine. Gently rewarm a jar of coconut oil in warm water to liquefy. It appears solid in the jar, but melts when heated. Naturally melts and becomes liquid at 76°F. Returns to solid when cooled.
Ingredients:
(NO ADDED INGREDIENTS)
100% Pure Cocos Nucifera (Coconut) Oil.
Cautions: Avoid direct sunlight.
Store in a cool dark place.
For external use only.
If irritation, redness or discomfort occurs, discontinue use.
Avoid contact with eyes. If eye contact occurs, rinse with water.
Keep out of reach of children.
Size: 4 fl oz / 118 ml