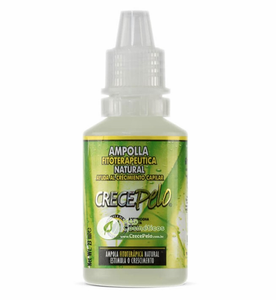 CRECE PELO AMPOLLA
Crece Pelo Ampolla is a extra deep conditioning repair treatment that protects, gives strength and energy to the hair shaft.
The Phitoterapeutic formula is 100% natural, promotes hair growth and has a pleasant smell. The natural extracts penetrate the hair layers, providing moisturization, softness and shine to the hair.
Its a powerful hair repair treatment with extra conditioning ingredients that protect, strengthen and energize hair fibres. Suitable for all hair types.
Remark: Crece Pelo Ampolla is NOT the same as the Crece Pelo Gotero drops !
Directions:
Apply after shampooing and conditioning.
The product is to be applied evenly and massaged directly into the scalp. Do not rinse out !
Style your hair as you desire.
Ingrediënts:
Purified water, PGE-12 dimethicone, Hydrolized keratin, Glycerin, biotynoyl, apigenin, oleanolic acid, Propylenglycol, Polyoxyethylene (20) sorbitan monolaurate, Vitamin E, Natural hydrokeratin, Fragrance,
Extracts & natural actives:
Laurel, Nettle, Arnica, Bardana (Burdock root extract), Watercress, Calendula, Ginseng, Ivy, Manzanilla (Chamomile), Lemon, Pine, Romero (Rosemary)