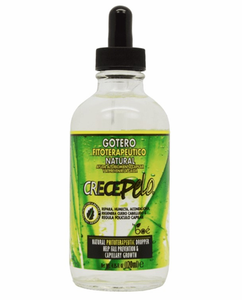 CRECE PELO GOTERO
Crece Pelo Gotero Drops are used directly on the scalp to help stimulate and promote hair growth and prevent hair loss.
The Phitoterapeutic formula consists on the use of natural plants ingredients and is especially designed to improve volume, hair health and vitality
Its a powerful hair repair treatment with extra conditioning ingredients that detoxify the scalp and protects by strengthening the hair fibre to prevent hair loss.
Detoxing your scalp is extremely important to maintain a healthy hair regimen full of growth and retention.
The drops can be used daily. Results vary on the condition of the hair. New growth of hair is typically seen with daily use in 3-6 weeks.
This product can be used on certain areas of the scalp or the entire head.
Directions:
Apply directly onto the scalp with massage. Do not rinse !
*It does not matter if the hair is clean or dirty.
Recommended use: Men daily. Women as needed.
Ingredients:
Purified water, PGE-12 dimethicone, Hydrolized keratin, Biotynol, Apigenin, Oleanolic acid, Propylenglycol, Glycerin, Sorbitan monolaurate, Polyoxyethylene (20), Vitamin E, Natural hydrokeratin, Fragrance, Diazolidinyl urea, Hydrolized wheat protein, Hydrolized silk, Panthenol.
Extracts & natural actives:
Laurel, Nettle, Arnica, Bardana (Burdock root extract), Watercress, Calendula, Ginseng, Ivy, Manzanilla (Chamomile), Lemon, Pine, Romero (Rosemary), Capuchina, Salvia, Tioxolone solution, Milk of cotton, Pronalen Fibro actif HSC (Hydrosoluble extract of Soy Germ and Wheat)