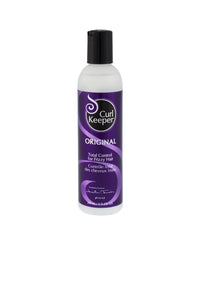 Total Control for Frizzy Hair.
Curl Keeper® Original enables you to become the master of those gorgeous frizz-free curls. Dryness causes out-of-control and frizzy hair. Curl Keeper® contains the highest quality ingredients, providing frizz control and curl definition. Hanging your head over while bending forward helps to dry the roots and gives the curls more bounce.
Curl Keeper® Original is a water-based formula, which means you can use it every day without product buildup. Your curly hairstyle will last for days as its unique formula re-activates with water, making Curl Keeper® Original 100% effective in all weather conditions, especially humidity.
Directions
Comb Curl Keeper® through wet hair from roots to ends for an even application. For very frizzy hair use additional product. The less movement that occurs during the first 15 minutes, the more control you will have over the frizz. Once your hair dries, you can easily soften your look by simply moving your hair around. The more you play with your hair the more volume you will achieve. Some people start appreciating their volume and curls once they have total control over the frizz. Curl Keeper® Original's formula re-activates with water, so simply re-wetting frizzy areas with wet hands could get you many fantastic frizz-free days between shampoos