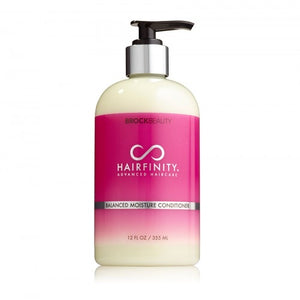 HAIRFINITY BALANCED MOISTURE CONDITIONER


This moisture-rich formula gently detangles, smoothes and replenishes hair to its optimal moisture level from root to tip. The result: De-stressed hair that's healthy, soft and manageable. Proven to reduce hair breakage up to 87%.
Infused with our exclusive CAPILSANA® COMPLEX that delivers a unique blend of bioactive Hydrolyzed Collagen, MSM for hair vitality, and nourishing Horsetail. 
Key Benefits:
Replenishes hair to its optimal moisture level
Smoothes and Detangles
Improves manageability

Formulated with over 96% natural ingredients (including water) and the relaxing scents of sea salt, hibiscus, and essential oils. Free of sulfates, silicones, parabens, phthalates, mineral oil, and petroleum.
Recommended for all hair types.  Safe for color-treated hair.