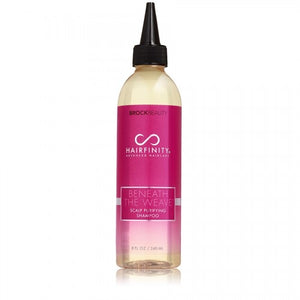 HAIRFINITY BENEATH THE WEAVE SCALP PURIFYING SHAMPOO
A light, airy foam shampoo formulated to calm, cleanse and detox natural hair bound in weaves or protective styles. Clears irritants and frees follicles of buildup without stripping hair and scalp of its natural moisture. Soothe your scalp and hair with the scents of peppermint and tea tree oils.
Hairfinity Beneath the Weave formulas are the first of its kind, created to target the hair and scalp under extensions and protective hairstyles. Containing over 95% natural ingredients, it is  free of sulfates, silicones, parabens, phthalates, mineral oil and petroleum.
Safe for all hair types including color-treated hair.
Key Benefits
Gentle cleansing for hair and scalp beneath protective styles and weaves
Cools and invigorates the scalp
Calms itchiness and irritation
Penetrates bound strands