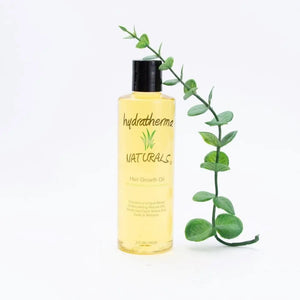 Now contains more Emu Oil per bottle! This multi-purpose hair oil is excellent for chemically treated and natural hair. Contains a unique blend of NATURAL OILS used to soften the hair, give hair a healthy shine and seal in moisture after the use of the Hydratherma Naturals Daily Moisturizing Growth Lotion. Repairs and prevents dry itchy scalp and prevents breakage. Only a small amount is needed. Great to use for scalp massages and can be used on the body also. Smells yummy but please do not ingest. For best results, use with other Hydratherma Naturals brand products. Contains Emu Oil to encourage growth. 
PH balanced. Paraben free
This product is rich with ceramides! Ceramides are lipids (oils) that naturally occur in the strand. Their main purpose is to act like the glue that helps the cuticle layer lay flat and remain intact. They serve as a binder to keep the cuticle layer in place. Ceramides help the hair to maintain protein, strength, elasticity, and shine. They create a protective barrier around the hair to hold in moisture and protein while also guarding the hair from chemical damage, heat damage and UV rays.
**Allergen information: Contains oils derived from nuts.