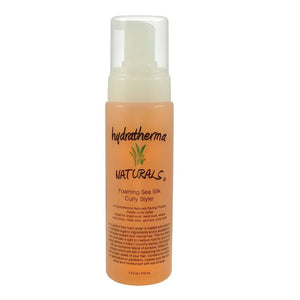 This alcohol free foam styler is loaded with extracts of certified organic ingredients and is excellent for chemically treated and natural hair. This product provides a light to medium hold for your curly styles without a hard / crunchy feeling. Formulated with an exclusive blend of light proteins, herbs and extracts which will aid in balancing the moisture and protein levels of your hair. Contains no mineral oil, petrolatum or parabens. Leaves your hair soft, shiny and moisturized with lots of body.
PH balanced. Paraben free.
A Hydratherma Naturals Styling Product.
Holds curly styles.
Great for braid-outs, twist-outs, wraps, curly locks, roller sets, and any curly style!
Provides a nourishing balance of moisture and protein in the hair while still providing light to medium hold.
Loaded with extracts of certified organic ingredients.