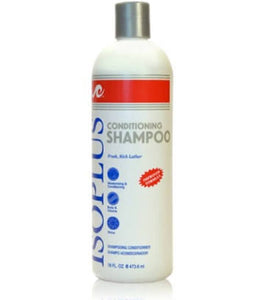 Isoplus Conditioning Shampoo Size: 16 oz
This amazing high lathering shampoo leaves hair looking and feeling smooth, shiny and refreshed. In one simple step, hair is cleansed, conditioned, detangled and much more.
The formula includes a unique blend of Olive Oil, Aloe Vera conditioners and Vitamins to help moisturize and revitalize the hair, leading to added softness, shine and body. Use the Isoplus Instant Conditioner to help improve hair texture, dry, dull and damaged hair.
Directions:
Apply shampoo to wet hair, working up lather with hands. Rinse hair thoroughly and repeat.