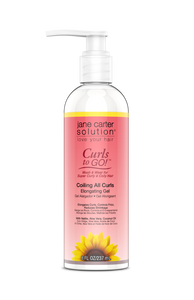 WHY IT'S GOOD FOR MY CURLY HAIR
To Define Curls and Reduce Shrinkage for Super Coily & Super Curly Hair.
Great to apply to wet or damp hair to elongate curls. It dries clean and shiny leaving hair soft and frizz free.
Your hair will have amazing curl definition, bounce and moisture.
Perfect for wash and go styling.
Enriched with Nettle Leaf Extract, Aloe Vera Gel, Coconut Oil.
For Super Curly & Coily Hair.
TO GET THE BEST RESULTS
Apply to super wet hair for wash & wear styles to prevent shrinkage and reduce frizz.
This clean gel de-frizzes hair and hold your curls in place.
A great on the go curl enhancing styler.