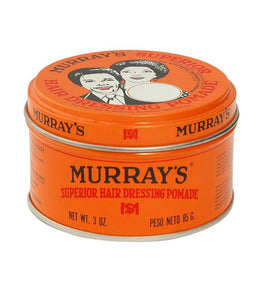 The original since 1926. Murray's is one of the world's leading hair pomades. Stylists worldwide praise Murray's versatility and ability to create any style. Adds texture, shine and lift while holding the hair in place all day. Perfect for all types of people with all types of hair. 
How to use:
1. Apply to damp or dry hair.
2. Apply dime sized amount to the hand and saturate from crown of the head forward, from the crown down the sides and the crown down the back to nape of neck.
3. Depending on style desired, aggressively use a hairbrush to mold in waves.
4. For added pliability when creating 360-degree waves, use a warm towel on the hair before applying product and repeat steps 2 and 3. 

Highlights
Smooths fades – helping hair lay flat
Helps accentuates natural curls and waves
Helps create 360-degree waves – providing intense shine
Helps create lift and texture for pompadours and comb-overs
Helps define a beard fade
Helps lock and mold a blow-out hair cut 
Inactive ingredients
Ingredients: Petrolatum, Mineral Oil, Fragrance (Parfum).