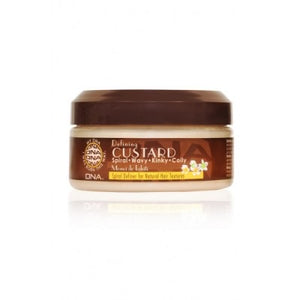 MY DNA Defining Custard   8 Oz. (227g)
MY DNA Defining Custard is a spiral definer for natural textures that turns dry, frizzy, natural hair into springy, bouncy, soft, well defined, frizz-frizz-free curls or spirals. This alcohol-free formula is enhanced with Monoi de Tahiti and locks in moisture to form beautiful, naturally enhanced coils, twists and curls that are not dry or flattened.
Benefits
DEFINES COILS AND CURLS.
ELIMINATES FRIZZ.
REDUCES SHRINKAGE AND ENHANCES STRETCH.
LOCKS IN PRECIOUS MOISTURE AS YOU FORM YOUR COILS.
FORMULATED WITH NATURE'S OILS AND CURL BOOSTERS.
Usage
APPLY TO WET HAIR IN SMALL SECTIONS AND SMOOTH FROM ROOT TO TIP UNTIL EVENLY DISTRIBUTED. REPEAT ON EACH SECTION UNTIL ENTIRE HEAD IS AND STYLE AS NORMAL.