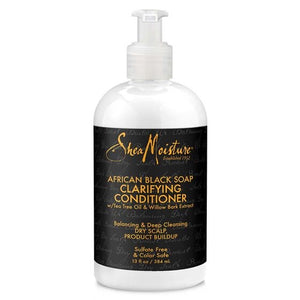 Shea Moisture's African Black Soap Clarifying Conditioner moisturizes and detangles hair while it soothes dry, itchy and flaking scalp. Use as a pre-shampoo or rinse out conditioner, as needed.
- Made with natural and certified organic ingredients.
- Plaintain Enzyme helps to alleviate itchiness and irritation.
- Tea Tree Oil removes buildup for enhanced shine and volume.
- Willow Bark Extract exfoliates and detoxifies hair and scalp.

Usage Instructions Work conditioner through hair from root to ends, massaging gently into scalp. Leave on for 3 minutes, then rinse. For deeper conditioning, leave on for up to 15 minutes. May also be used as a leave-in conditioner or pre-shampoo.