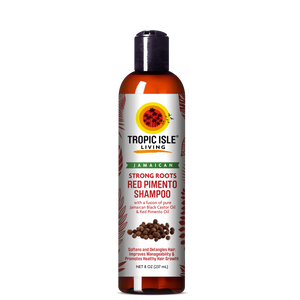 Product Details
The Tropic Isle Living Strong Roots Red Pimento Shampoo with red pimento, coconut, jojoba and essential oils cleanses and removes buildup while adding volume and moisture to dry or damaged hair. Red pimento is a key ingredient in aiding hair growth by gently cleaning and detoxifying the scalp.
Usage & Ingredients
How to Use:
Wet hair with lukewarm water, apply shampoo, lather, rinse with cool water and repeat. Condition hair with the Tropic Isle Living Strong Roots Conditioner with Red Pimento Oil for 20 minutes then rinse (For Relaxed or Color Treated hair leave Conditioner in hair for 1 hour and cover with plastic cap). Complete hair regimen with the Tropic Isle Living Leave-in Conditioner and style as desired.
Ingredients:
Saponified Organic Oils of Coconut, Olive, and Jojoba, Jamaican Black Castor Oil, Glycerin, Guar Gum, Shea Butter, Lemon Oil, Lavender Oil, Pimento Oil, Natural Rosemary Extract, Aloe Vera Juice.