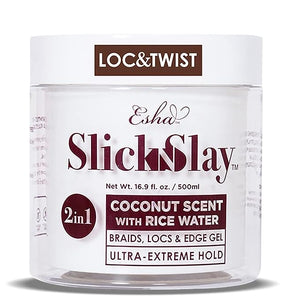 About this product
INTRODUCING THE FINEST GEL FOR 4C NATURAL HAIR AND ALL CURLY HAIR TYPES! Our revolutionary gel is specifically designed to cater to the needs of 4C natural hair and all curly hair types. It not only sleekly tames edges but also nourishes hair follicles with natural oils to stimulate healthy hair growth. Experience the benefits of our gel, free from flaking or unsightly residue. With its meticulously crafted formula, our gel acts as a remarkable moisturizer, replenishing the hair and scalp's natural pH balance.
* A Must-Have for Effortless Hair Styling: Achieve the perfect hairstyle effortlessly with Esha's Slick N Slay Ultra Extreme Hold Braid Gel!

Water-Aqua, CETEARETH-30 Emulsifying Wax, CETEARETH-20 Emulsifying Wax, PEG-75 LANOLIN, GLYCERIN, ACRYLATES COPOLYMER, PED-400, TRIETHANOLAMINE-TEA, PHENOXYETHANOL, FRAGRANCE, CHLORPHENESIN (Preservative), CARAMEL, CARMINE, NaCL, Cl 16035 (Red 40), CASTOR OIL.